making it
'MAKING IT' premiered in October 2016 as the opening night film of the Kerry Film Festival. Ireland's most read newspaper, the Irish Independent selected Making It as one of the 'Highlights' of The Galway Film Fleadh, 2017 and the comedy won 'Best Feature Film' at the New Jersey Irish Film Festival in the same year. Eamonn also co-wrote the script..
The film tells the story of Mike McMahon, who sets out to make his own action movie without a clue of how to do it. His efforts quickly land him in hot water with both sides of the law and the whole thing is a massive disaster with shootouts, car chases and plenty of local Kerry characters. Click here to read more.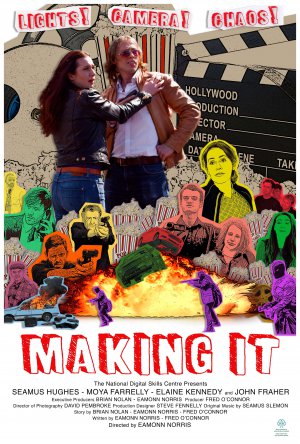 the deadline
The Deadline is an Irish short film which won The 50 Hour Film Competition at the Kerry Film Festival, 2014. It also appeared at The Arizona International Film Festival, 2015.
Two detectives on the trail of a killer. A terrifying monster waiting somewhere in the darkness. A writer running out of ideas as he fights the clock. One goal drives them all.
The Deadline is a short film about an under pressure screenwriter who keeps getting interrupted while trying to complete his film script. These interruptions directly impact his characters in strange and sinister fashions.Click here to read more.
timless
Timeless is a fantasy adventure about an isolated man in 1920s Ireland who is faced with the decision of his life after unexpectedly travelling forward through time. The idea for the film came about while Eamonn was out for a walk in the picturesque Ramparts nature walk in Navan, County, Meath. Click here to read more.